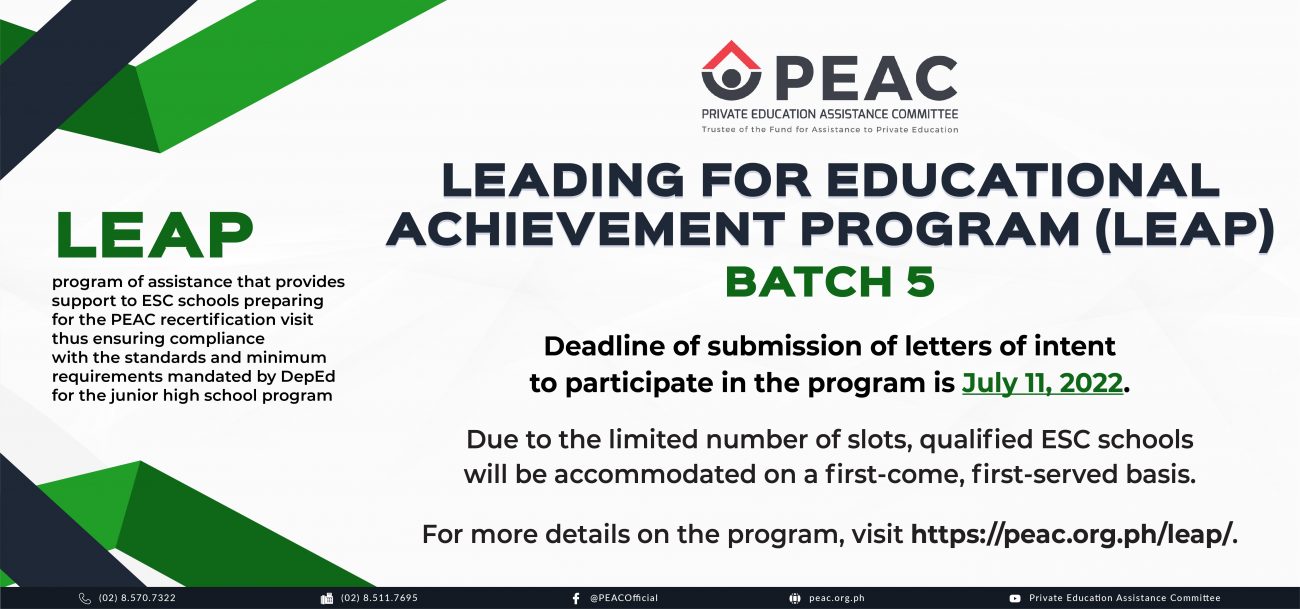 The Private Education Assistance Committee (PEAC) invites eligible ESC participating schools to send letters of intent to participate in the Leading for Educational Achievement Program (LEAP) for school year 2022-2023. LEAP is a program of assistance that provides support to participating schools preparing for the PEAC recertification visit thus ensuring compliance with the standards and minimum requirements mandated by the Department of Education (DepEd) for the junior high school program. LEAP is a partnership with the Lasallian Schools Supervision Services Association, Inc. (LASSSAI).
LASSSAI is an office of the De La Salle Philippines which aims to assist academic institutions through supervision, management and administration. The Lasallian Schools Supervision Office (LASSO), the implementing arm of the LASSSAI, was created to continue the task of supervising schools.
The PEAC National Secretariat (PEAC NS) shall send a communication to the qualified schools based on the eligibility criteria. Qualified schools that are interested to participate in the program should submit a Letter of Intent with the subject head "LEAP Batch 5 – [Name of Institution]" that is signed by the school head. The Letter of Intent should be addressed to the  PEAC Executive Director and should be sent via e-mail to [email protected] of the Communications and Research Unit. The PEAC NS will accept letters of intent until July 11, 2022.
For inquiries, send an email to [email protected] or contact 0917-163-1100.