Coaching for Results in Education (CoRE)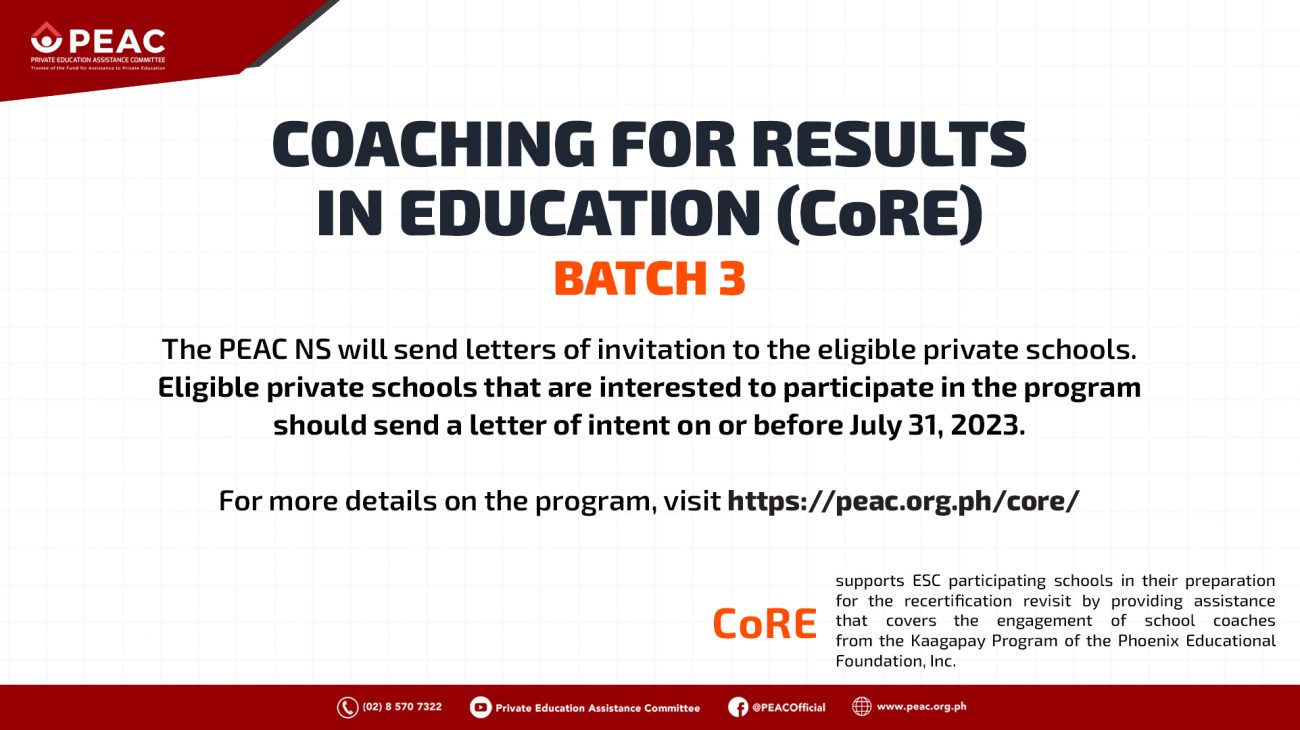 The Private Education Assistance Committee (PEAC) issues the guidelines of the Coaching for Results in Education (CoRE), for school year 2023-2024. CoRE is a program that supports ESC schools in their preparation for the recertification revisit through a partnership with the Phoenix Educational Foundation, which implements the Kaagapay Program.
The Kaagapay Program assigns school coaches who are expert practitioners and leaders in education. It specifically assists the schools in the following: pursuance of data-based school improvement that impacts students' learning; on- track implementation of recommendations and the School Improvement Plan (SIP); results-based management in monitoring outcomes in key result areas; and cost-effective management of human and material resources.
The PEAC will cover the financial assistance of Php50,000 for one school year in the CoRE Program wherein the school grantee accepts coaching from experts through the Kaagapay Program of the Phoenix Educational Foundation.
The PEAC NS shall send a formal communication to eligible private schools and schools that are interested to participate in the program should submit a Letter of Intent addressed to the PEAC Executive Director and signed by the school head on or before July 31, 2023.
The Letter of Intent should be sent via e-mail with the subject "CoRE Batch 3 – [Name of Institution]" to Ariel V. Alfonso ([email protected]) of the PEAC NS Communications and Research Unit.
For inquiries, send an email to [email protected] or contact 0917-163-1100.
Second Batch of CORE Schools for 2022-2023
Category A
Region 1
Immaculate Conception Catholic School | Umingan, Pangasinan
Saint Anthony Abbot Academy | Villasis, Pangasinan
Region 3
Angelican School of Marilao, Inc. | Marilao, Bulacan
St. Jude College of Bulacan | Plaridel, Bulacan
Region 4A
Divine Child Academy | Batangas City
Waynesville Learning Center, Inc.| Bacoor City, Cavite
Indang Christian Academy | Indang, Cavite
Laguna Northwestern College-San Lorenzo Ruiz Montessori Center | Siniloan, Laguna
Royal Palm Academy of Cavite, Inc. | Indang, Cavite
Saint Claire Academy, Lian, Batangas, Inc. | Lian, Batangas
Region 6
Madyaas Institute, Inc. | Numancia, Aklan
Region 7
Scholas Societas, Inc. | Tagbilaran City, Bohol
Region 8
Grelina Osmeña Christian College | Hilongos, Leyte
Divine Mercy Integrated Academy of Villareal Foundation, Inc. | Villareal, Samar
Notre Dame of Jaro Inc. | Jaro, Iloilo
Region 9
Aurora Pioneers Memorial College | Aurora, Zamboanga del Sur
Hyrons College Philippines, Inc. | Tukuran, Zamboanga del Sur
Region 10
Puntian Technical Institute, Inc. | Quezon, Bukidnon
NCR
Nino Jesus House of Studies Incorporated | Pasig City, Metro Manila
St. Mary Goretti School  | Caloocan City, Metro Manila
BARMM
Sultan Kudarat Islamic Academy Foundation | Sultan Kudarat, Maguindanao
Category B
Region 3
Knowledge and Virtue Academy | Marilao, Bulacan
Region 4A
Regis Benedictine Academy | Batangas City, Batangas
Region 5
Holy Family Academy | Pilar, Sorsogon
Region 6
Philippine American Progress School, Inc. |  La Paz, Iloilo City
Elizalde Academy of Poblacion | Pres. Roxas, Capiz City
Region 9
Western Mindanao Adventist Academy | Dumingag, Zamboanga del Sur 
NCR
Charis Christian School of Valenzuela, Inc. | Valenzuela City, Metro Manila
Norwich Brent Cedric School Inc. | Quezon City, Metro Manila
M.A. Montessori School, Inc. | Makati City, Metro Manila
South Crest School | Muntinlupa City, Metro Manila
First Batch of CORE Schools for 2021-2022
Region 3
Baler Institute | Baler, Aurora
Dona Trinidad Mendoza Institute | Bulakan, Bulacan
John Paul Benedict School of Meycauayan Inc. | Meycauayan City, Bulacan
Liceo de Buenavista, Inc. | San Ildefonso, Bulacan
REH Montessori College | Talavera, Nueva Ecija
Region 4A
Academia Trinitas | Dasmarinas City, Cavite
Canlubang Christian School | Calamba City, Laguna
CSTC Colleges of Sciences, Technology and Communications, Inc. | Sariaya, Quezon
Cuenca Institute | Cuenca Batangas
Lumban Academy – Nittany School, Incorporated ] Lumban, Laguna
Samuel Christian College | Gen. Trias City, Cavite
Southhill Montessori School, Inc. | Calamba City, Laguna
Region 6
Our Lady of Lourdes Academy – Pulupandan | Pulupandan, Negros Occidental
Region 7
Eastside Christian Academy | Carcar City, Cebu
Northeastern Cebu Colleges, Inc. | Danao City, Cabu
Region 8
St. Michael's High School, Tanguib City, Inc. | Tanguib City, Misamis Occidental
Region 12
Notre Dame of Maitum, Saranggani Province
NCR
Escuela de San Dionisio | San Dionisio, Parañaque City, Metro Manila
Santiago Bernardo Foundation Inc (Bernardo College) | Las Piñas City, Metro Manila
For inquiries, concerns and clarifications:
Communications and Research Unit Contact Details:
Email Address: [email protected]
Telephone: 02.8570.PEAC (02.8570.7322) loc. 171