Research for School Improvement Towards Excellence (RSITE)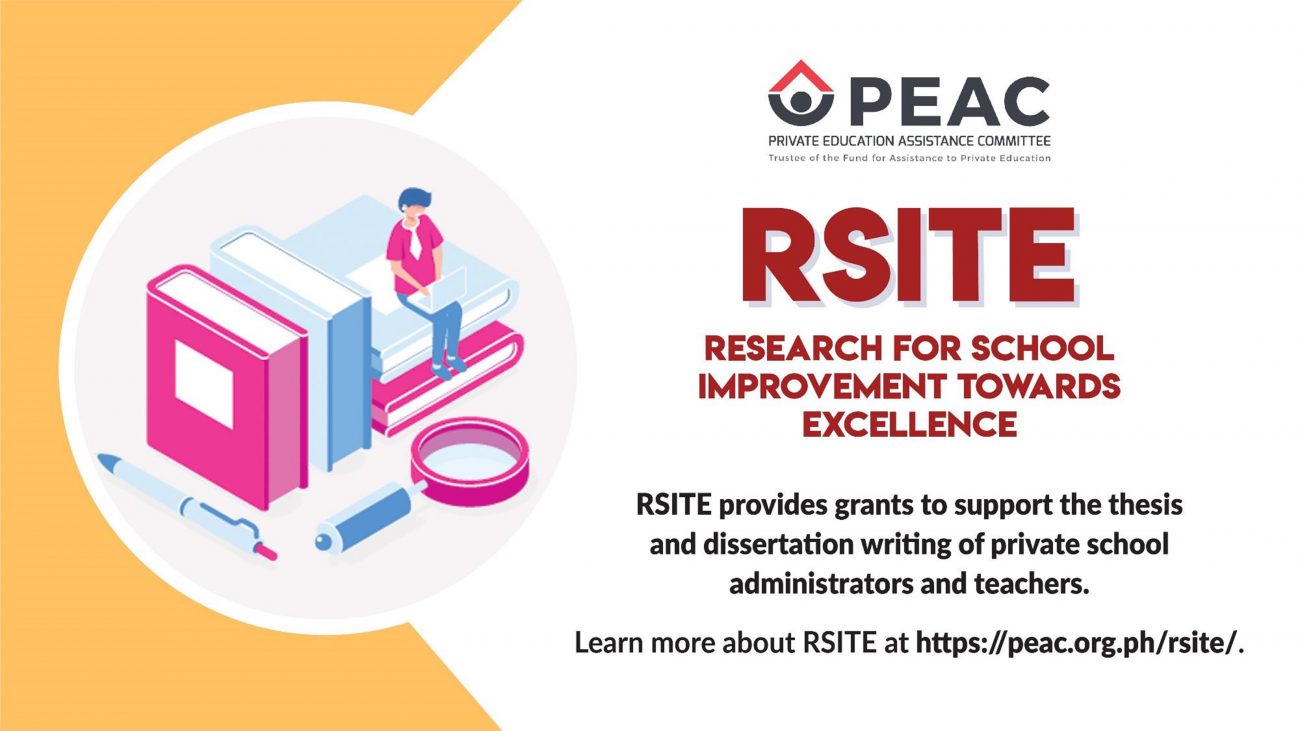 The Research for School Improvement Towards Excellence (RSITE) is a program of assistance developed and implemented by PEAC to encourage the development of the private education sector by providing support to school improvement in private schools. Specifically, the goal of the RSITE is to support school administrators and teachers who are writing their thesis or dissertation that addresses school needs and thereby improves educational delivery, and to build a community of education practitioners who will work towards a research-based improvement of private schools in the country.
List of RSITE grantees
The PEAC supports administrators and teachers by giving P80,000 to those writing their dissertations and P40,000 to those finishing their Master's theses.
For inquiries, concerns and clarifications:
Communications and Research Unit Contact Details:
Email Address: [email protected]
Mobile: 0917.163.1100
PEAC Data Privacy Notice for RSITE FY 2022-2023
As part of the RSITE application process, PEAC collects and processes documents relating to applicants. Please read the following carefully to understand how we will treat your personal data.
PEAC as Personal Information Controllers
In carrying out the implementation and management of RSITE, PEAC acts as Personal Information Controllers (PICs) as defined under the Data Privacy Act of 2012. According to Sec. 3 of RA 10173, PIC refers to a person or organization who controls the collection, holding, processing or use of personal information, including a person or organization who instructs another person or organization to collect, hold, process, use, transfer, or disclose personal information on his or her behalf.
Personal Information Collected
PEAC collects the following documents:
Application letter from the applicant and signed by the head of the school where the applicant is employed
Endorsement letter issued by the dean of the graduate school where the applicant is currently enrolled
Official school document attesting that the proposal has passed the required thesis/dissertation proposal defense
Soft and hard copies of the approved thesis/dissertation proposal covering Introduction, Review of Related Literature, and Research Methodology
Copy of the research timetable showing thesis/dissertation to be completed within the grant period
Concise curriculum vitae of the applicant
Copy of one government-issued ID
All information requested above are mandatory for the provision of the service.
Use
The collected personal information is utilized solely for evaluation and documentation purposes within the PEAC. The personal information will be used as is and will not be subject to additional processing before and after the stated purposes.
Protection Measures
Only authorized PEAC personnel shall have access to these documents. The exchange of data shall be done through e-mail and authorized print outs given to the evaluator and PEAC Finance Unit. Electronic transmittal of data and information is sent using official PEAC addresses only. Print-outs are handled only by authorized PEAC personnel.
Personal data will be stored for five (5) years. The five (5) years will be counted after applicant completes his/her program requirements. The hard copies shall be disposed through shredding, while digital files shall be anonymized or otherwise destroyed through the use of secure digital technology.
Access, Correction and Erasure
Every applicant has the right to ask for a copy of any personal information that PEAC holds about him/her, as well as to ask for it to be corrected if he/she thinks it is erroneous. Also, the applicant may also request for his/her data's complete erasure from the PEAC's servers. To do so, and for any other matters relating to the processing of personal data, he/she may contact the Communications and Research Unit, [email protected].
By submitting these documents, the applicant agrees to the foregoing conditions. PEAC reserves the right to seek all remedies available by law for any violation of the foregoing conditions. All rights not expressly granted herein are reserved by PEAC.