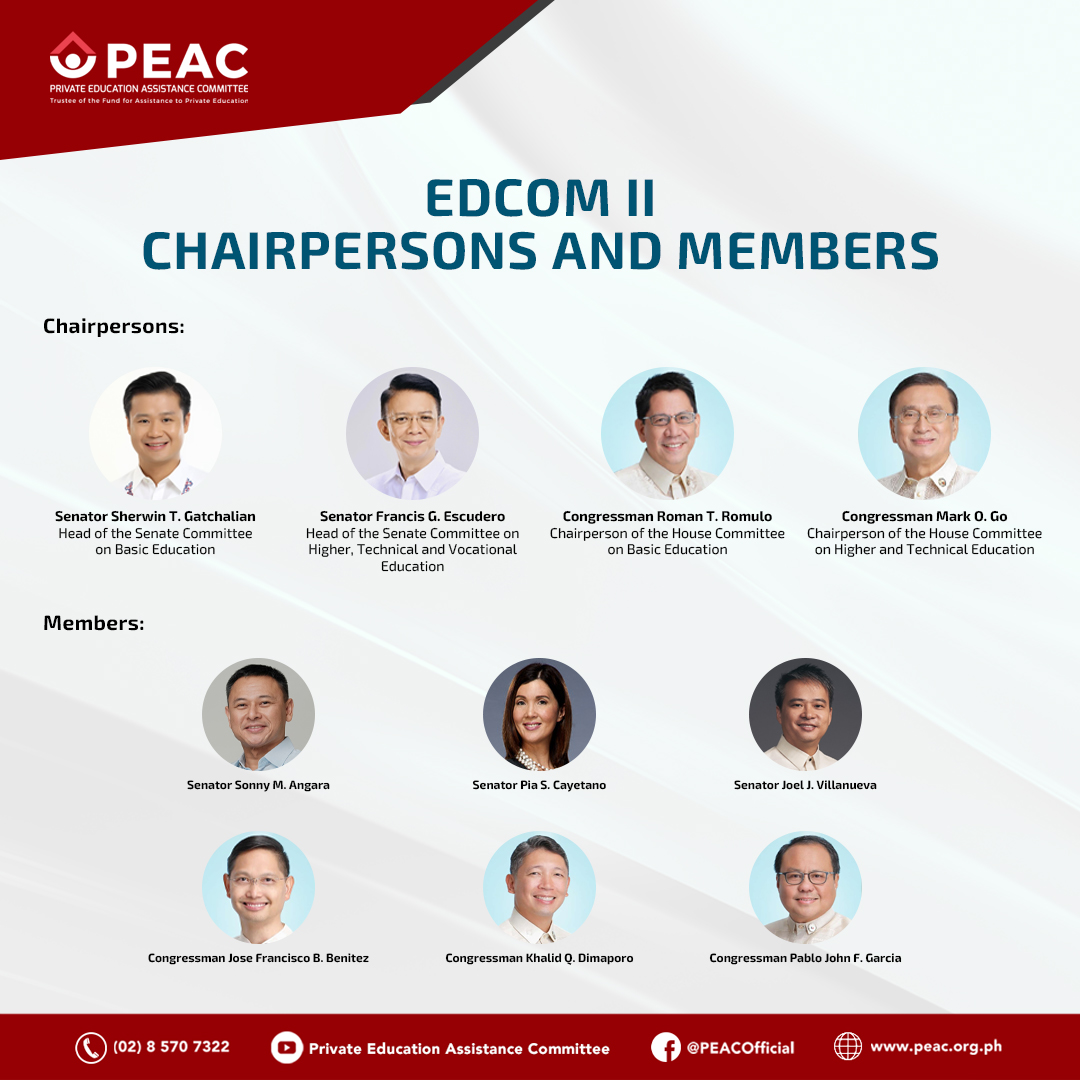 PEAC Executive Director Doris F. Ferrer is one of the policy advisers to the Second Congressional Commission on Education (EDCOM II). The EDCOM II was created by Republic Act 11899 to undertake a three-year comprehensive national assessment and evaluation of the Philippine education sector's performance.
The chairpersons of EDCOM II are Senator Sherwin T. Gatchalian, Head of the Senate Committee on Basic Education, and Senator Francis G. Escudero, Head of the Senate Committee on Higher, Technical and Vocational Education, together with their Congressional counterparts Congressman Roman T. Romulo, Chairperson of the House Committee on Basic Education, and Congressman Mark O. Go, Chairperson of the House Committee on Higher and Technical Education. Other members of the commission are Senators Pia S. Cayetano, Sonny M. Angara, Joel J. Villanueva, as well as Congressmen Pablo John F. Garcia, Jose Francisco B. Benitez, and Khalid Q. Dimaporo.
The other members of the advisory council who are required to attend all EDCOM II hearings and provide expert assistance and advice to the commission are Fr. Bienvenido F. Nebres S.J., former President of Ateneo de Manila University, and Dr. Ma. Cynthia Rose B. Bautista, Vice President for Academic Affairs of the University of the Philippines as representatives from the academe; Alfredo I. Ayala, Managing Director and Member of the Management Committee of Ayala Corporation, and Dr. Chito B. Salazar, President & COO and Head of Education of PHINMA Corporation as representatives from the business sector; Irene M. Isaac, former TESDA Director-General; and Pasig City Mayor Vico N. Sotto and Taguig City Mayor Lani L. Cayetano as representatives from local government units. Synergeia Foundation and E-Net Philippines were also selected to represent civil society organizations and development partners engaged in education.